Fab Food Month 2013 – Week 1 – French Onion Soup
The '70s are back in full swing this month at Let's Get Fit. It has been great receiving your favourite recipes and breaking out our groovy decorations.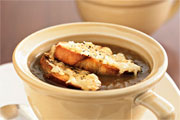 Our first recipe is a classic, French Onion Soup from Jo Maxwell – which is perfect for the colder months. Thanks Jo!
To view/download/print the complete recipe, CLICK HERE