HIGH POWERED BLENDERS
The rise in popularity of high-powered blenders over the last few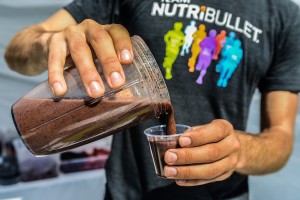 years has been hard to ignore; you may have even received one  – or given one as a gift for Christmas. They are a quick and convenient way to whip up a quick breakfast and help you indulge in a sneaky cocktail or two. While they do have plenty of advantages, they can also be an unassuming energy trap.
The recommended daily intake of fruit for adults (men and women) is two standard serves1. Two standard serves is equal to around 150g (350kj), which looks like2:
1 medium apple, banana, orange or pear

2 small apricots, kiwi fruits or plums

1 cup diced or canned fruit (no added sugar)
Or only occasionally:

125ml (½ cup) fruit juice (no added sugar)

30g dried fruit (for example, 4 dried apricot halves, 1½ tablespoons of sultanas)
Throwing a banana, and apple a few berries, milk, coconut water and/or yoghurt can quickly add up, leaving you well over the daily limits for sugar, fruit and dairy. What starts off to be a nutritional, on the go breakfast can wind up being not so friendly after all. Whizzing everything around in a blender can also heat up the contents and break down fibre naturally present in fruits and vegetables which can reduce some of the intended nutritional value.
The Nutribullet does use less fruit than conventional blenders, but the high powered blades help to release fructose into the juice which is then more readily taken up by the body than when eating the piece of fruit. This has effect on blood sugar levels, insulin, calories consumed and the need for more exercise. You will also find that in a few hours you will be craving more sugar!
Don't get us wrong, blenders are a great thing to have in the kitchen. If you are going to use yous to make healthy juices, my best piece of advice is to keep your juice green. Use water as the base and add a small amount of fruit or a teaspoon of honey or agave for sweetness if you need to.
Here are a few green ideas to get you started:
Arugula – spicy, grassy

Basil – sweet, spicy

Capsicum – hydrating, sweet, zesty

Cabbage – mildly grassy

Celery – zesty, hydrating

Cucumbers – hydrating, sweet/sour

Endive – bitter

Fennel – anise, zesty

Green onion – zesty, spicy

Jalapeno – spicy, zesty

Kale – grassy, dark

Romaine – hydrating, mild, grassy

Limes – sour, zesty

Mache – grassy, dark

Parsley – grassy, zesty

Spinach – grassy, dark, pungent

Watercress – spicy, grassy, hydrating

Wheatgrass – very grassy

Zucchini – hydrating, mildly bitter

Mint – vibrant, minty, cooling

Assorted green herbs
Fruit that could be added in moderation:
Green apples – very sweet, tart

Green pears – very sweet

Kiwifruit – tart, sweet, zesty

Honeydew – sweet, hydrating
You can also use it to make bases for soups and stews, just throw in any leftover veggies in the fridge, add some low-sodium stock and you're good to go – don't forgot the legumes!
References
1 Nutrition Australia, Australian Dietary Guidelines: Recommended daily intakes, http://www.nutritionaustralia.org/national/resource/australian-dietary-guidelines-recommended-daily-intakes viewed 20 March 2016
2  Australian Government Depart of Health, Serve sizes, https://www.eatforhealth.gov.au/food-essentials/how-much-do-we-need-each-day/serve-sizes viewed 20 March 2016